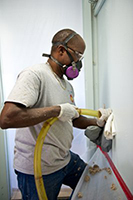 It is estimated that millions of homes in the U.S. are not properly insulated. Older homes particularly often have little or no insulation in the walls. High energy bills and draft living spaces are typical signs of under insulation.
Fiberlite's cellulose insulation is easily installed over existing insulation in the attic and may be added to walls without the need for costly renovation of the interior wall finish. It is simply blown into the wall cavities through small holes, which are easily patched or plugged.
→Click Here to get more information and assistance on retrofitting homes and building walls with cellulose insulation.
Best Fiberlite Cellulose Insulation Retrofit Products: